This seems to be the tool for spreadsheet fanatics.
Part spreadsheet, part database, and entirely flexible, teams use Airtable to organize their work, their way. – Airtable
Airtable can handle all types of content. Attachments, long texts, checkboxes, links to recordings, barcodes and so on. Everything that you want to be neatly organized can be put together.
You can choose between different 'views'. For example the Grid view, which is very similar to Excel, but also the well-known 'Kanban view ' which offers many tools.
Airtable is a clear and user-friendly tool that has a free version.
The tool is based on the idea of ​​a to-do list. The goal of Asana is to gain an overview of what you still have to do. This allows you to prioritize.
Make more time for the work that matters most. Asana is the work management platform teams use to stay focused on the goals, projects, and daily tasks that grow business. – Asana

What is striking is the way in which Asana provides insight into how the workload is distributed among colleagues.
Furthermore, the main board is a Kanban board and the tool has a free version (up to 15 people).
For sprints in website projects with developers. It takes some time to learn how to work with it, but if you know the possibilities, it works quite well! Especially the overview around communication. Everything can be found by the people involved, instead of hidden in different mailboxes. Working remotely with team members is also handy. You can assign tasks to others and communicate easily. It makes it easy to collaborate on projects. "
Plan smarter, collaborate better, and deliver faster with a range of modern development services. – Azure DevOps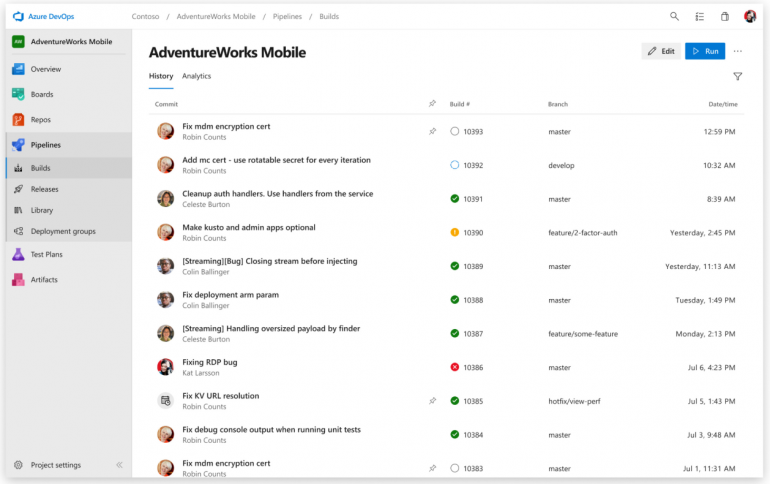 As you can see in this screenshot, Azure DevOps is a very comprehensive tool. A free version can only be used by one person. This is really only to view the tool.
Basecamp is made to keep an overview during projects. Do you work in a growing start-up? Then you notice that collaborating on projects via email is not very convenient. You lose the overview in the agreements, you are continuously CCing and RE: 'and and you lose your documents.
Basecamp helps you increase accountability, communicate more efficiently, and keep everyone on the same page. – Basecamp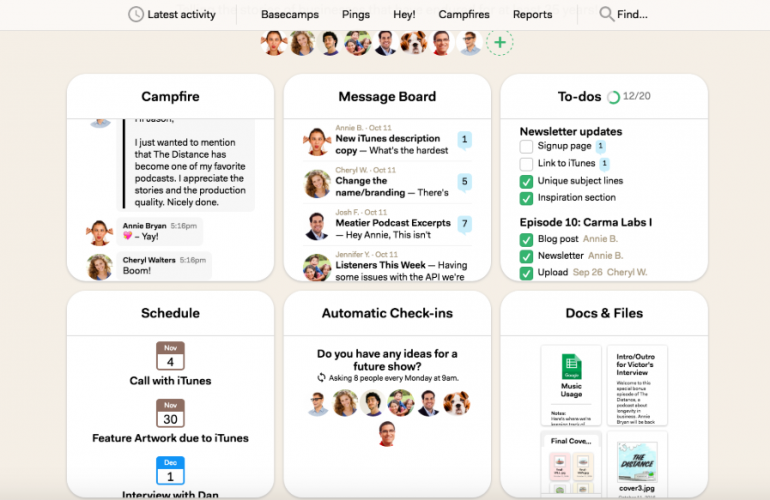 There is no free version available. You can try a free trial version for 30 days.
Calendly helps you schedule meetings without the back-and-forth emails.
This tool reminds us of Datumprikker.nl , but specifically for companies. It also has slightly more functions than simply setting a date. For example, it automatically creates a web conference link, places the meeting in your CRM system, adjusts the times to the time zones and sends a reminder prior to the appointment.
The Skedda tool also fits in this list; easy to book and manage meeting rooms for teams that are located in different Outlook domains. Or if external parties have no access at all to book rooms. "
Confluence, part of Atlassian, reminds me of Google Drive (also included in this list). With this tool you can work with several people at the same time in an online document. Confluence offers several standard templates, so you immediately have an outline for a marketing or project plan.
Unlike document and file-sharing tools, Confluence is open and accessible, helping your team and business work better together. The tool is free for up to ten users.
A tip from our author and former colleague Josien Harder :

In the video on the homepage, this tool looks user-friendly. It is an extensive tool with a focus on project work, keeping an overview, meeting deadlines and distributing the workload. For example, one of the options is the extended timeline: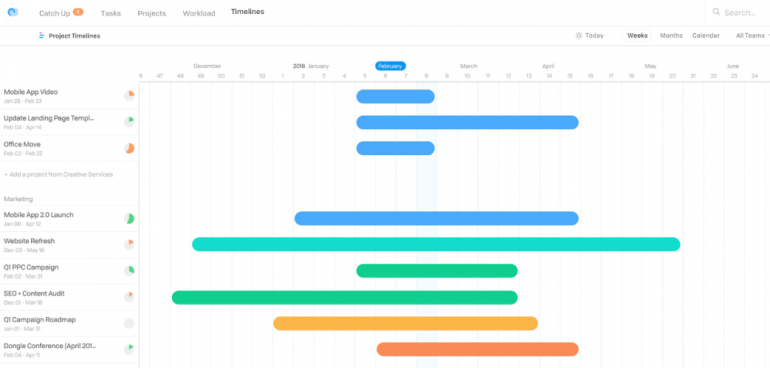 In addition, Flow also has a Kanban board.
All of your team's work, projects, and tasks in one collaborative workspace. – Flow
Flow does not have a free version. You can test the tool for free for 30 days.
Gmail, Google Docs, Drive (storage) and a Calendar in one. Because the documents look like Word files, the spreadsheets like Excel files and the Presentations on PowerPoint, the G Suite is very user-friendly.

You can work in the same file at the same time and give each other feedback. This tool also works well on your phone.
Everything you need to work optimally, conveniently collected in one package that works seamlessly on your computer, phone and tablet. – G Suite
A handy thing about Google Drive is that you can choose per file with whom you want to share it. And is this person allowed to edit, comment or just take a look? It does not matter whether this person works for the same organization or is an external person.
The first 15 GB of storage in Google Drive is free, and you can try the entire G Suite for free for two weeks. G suite is Not free.
Pascal Vleugels writes: 'Invision Freehand can be used to draw quick diagrams or wireframes with a number of drawing tools (a kind of Adobe Illustrator, but super simple and in sketch form). You can draw in real time with several people at the same time.
Design better. Faster. Together. The digital product design platform powering the world's best user experiences. – Invision Freehand
If, based on the website, I compare Invision Freehand to Google Jamboard, Google Jamboard is a bit simpler and Invision Freehand really designed for designers.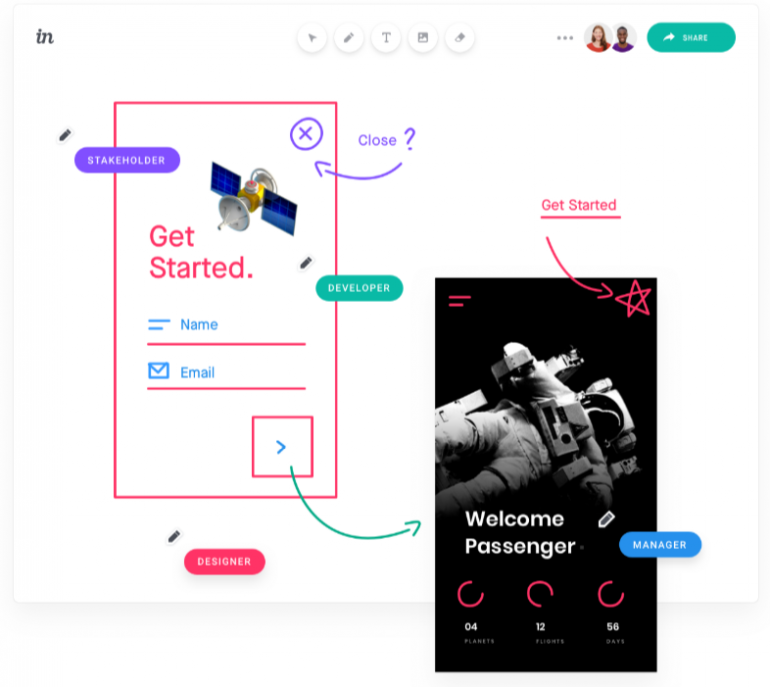 It is a well-organized tool that, as Pascal indicated, is very similar to Adobe Illustrator . A handy program for designers to work on designs together and also for free.
Jira, like Conflurence, is part of Atlassian . Both author Eva Huijts and Pascal Vleugels mention this tool. The tool is described (somewhat self-righteously) as:
The # 1 software development tool for agile teams.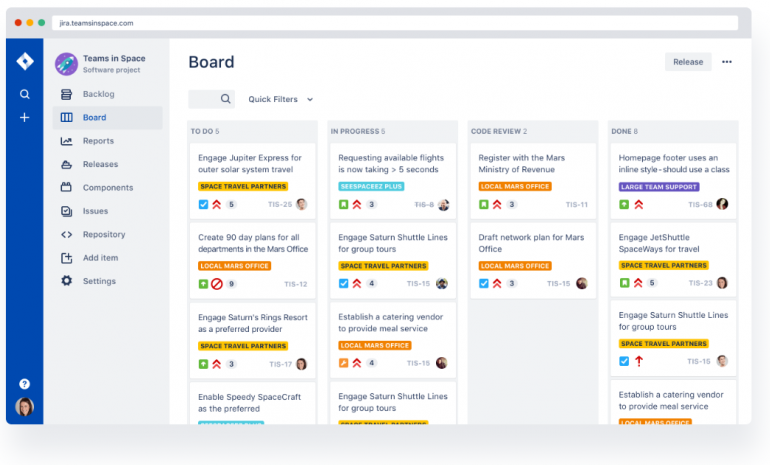 This tool has been specially developed for software teams. You can shoot problems, plan sprints, make roadmaps, distribute the workload and prioritize certain tasks. The tool also keeps track of the performance of your team.
This tool reminds me of Clubhouse , which is used at Frankwatching.
Jira has the same pricing calculator on the website as Conflurence and is also free for up to ten people.
Together you achieve more than alone. – Microsoft Teams
Lydia, who was previously featured at Microsoft DevOps, is also a fan of Microsoft Teams. Lydia: "What is handy with Microsoft Teams is that you can also add external email addresses. That way you can also work with external parties, without using solutions such as Dropbox. "
Microsoft Teams is somewhat similar to Slack (discussed later). You can easily chat, meet and share files.
Microsoft Teams has a free version.
This tool does not need much explanation, because it is very simple: a common mailbox. On top of that, it lets you manage Facebook, SMS and Twitter accounts from a single place.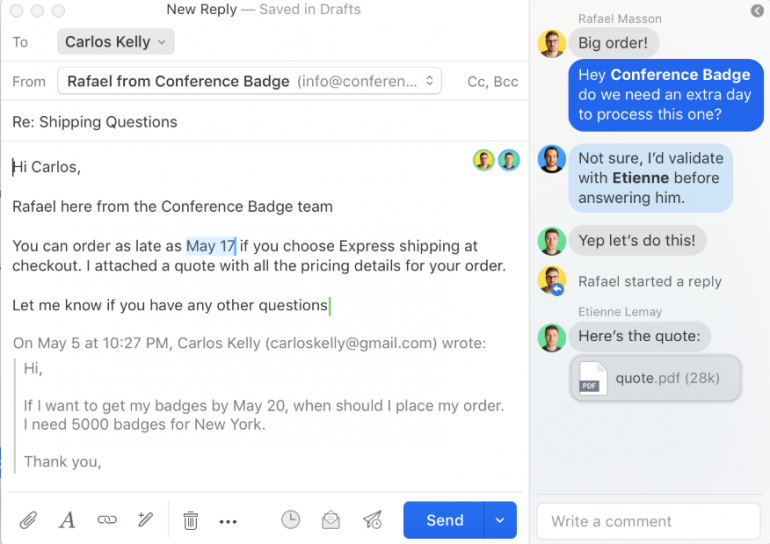 As you can see in the screenshot, you can use this tool to spar with your colleagues in addition to the email exchange. That way you have much less separate emails and a better overview. You can also easily label the mails, divide tasks and you can also link the social media accounts to the mailbox.Merging several e-mails to one is also handy! In case you recieve several loose e-mails that belong to each other…
The tool is free for up to three users.
Paymo is a comprehensive tool for small businesses and freelancers. In addition to the options to schedule tasks, distribute the workload, set deadlines and chat, this tool also keeps track of financial data. What kind of payment agreement has been made with the customer (on an hourly basis or a fixed price), how many hours is planned, how many hours have been worked on so far and what is the real-time amount of the invoice?
Paymo helps your team work better by getting everyone on the same page. Planning, scheduling, task management & time tracking seamlessly integrated. – Paymo
This tool is suitable for complex projects to which invoices are directly linked. Are you a freelancer or do you have a sole proprietorship? Then this tool is free to use.
A tip from author Angèl Nijskens . She uses Podio for her project management. All documents that you use in your daily work life can be placed in Podio. This tool comes across as a nice total solution to me. It includes a calendar, task management, CRM and project management link, chat, automated workflows, scheduling and an option for data visualization.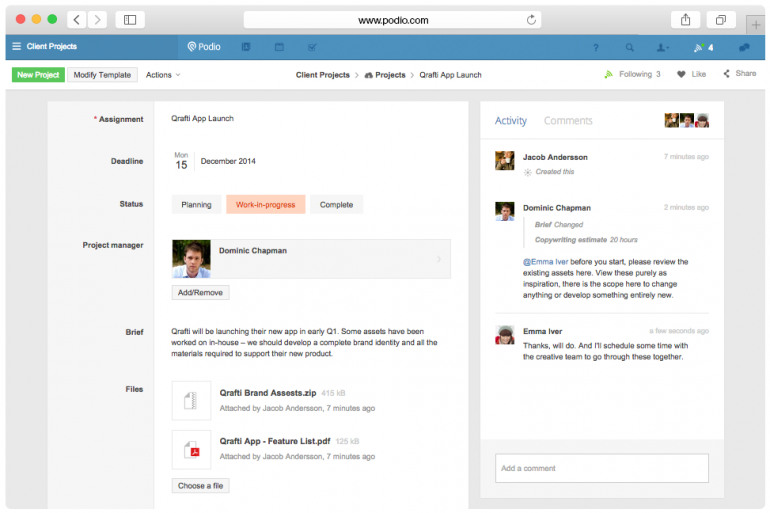 Try the adaptable work management solution that leaders trust and that employees love to work with. – Podio
The tool is free for up to five users.
Miro is useful for product development, UX research and design and lean & agile working. The interesting thing about this tool is that the overview page this time is not a Kanban board, but an 'infinite canvas'. You can store all kinds of files and formats on one 'whiteboard', which you can zoom out infinitely. You can make video calls in the same document at the same time.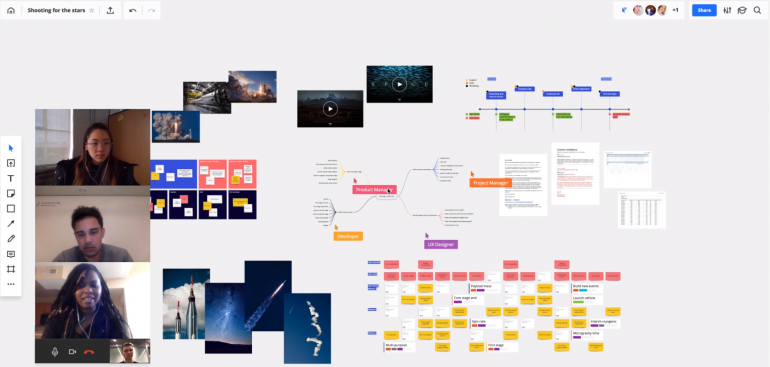 Slack keeps track of the 'threads' when messages are sent specifically to you or your team. In addition, the tool has a handy and extensive search option.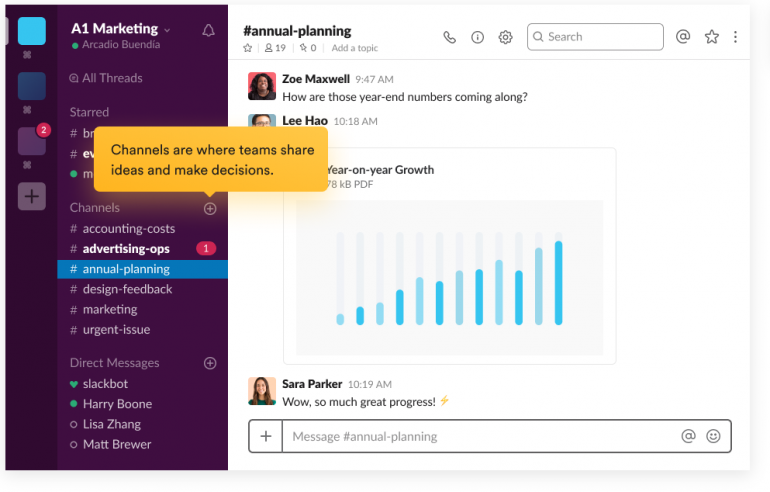 The tool is free for small businesses and start-ups.
The winner according to The Forrester Wave (pdf) . This tool has so many options that they cannot fit on one screenshot. In addition to the obvious options (such as a plan board and agenda), Smartheets also has real-time dashboards, such as these: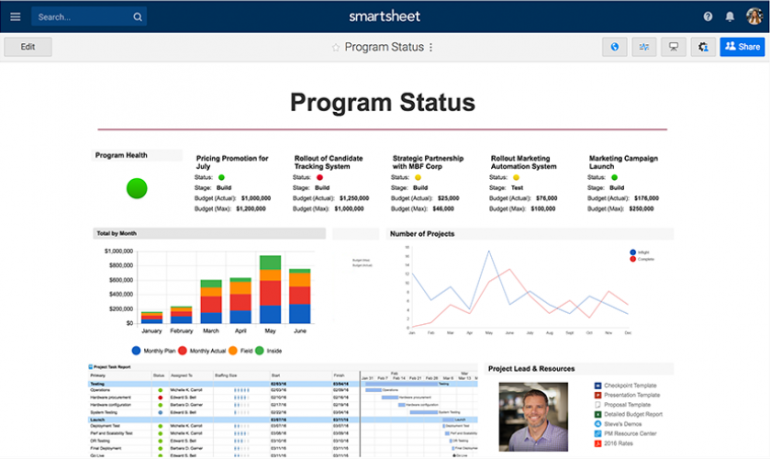 Move ideas to impact, fast, with the leading work execution platform built to plan, capture, manage, automate, and report on work – at scale. – Smartsheets
At first glance, this doesn't seem like the most user-friendly tool (I think you'll need an introduction), but I do believe that this is a tool that 'is enough for you'. The only thing I'm missing, if I'm correct, is a chat function.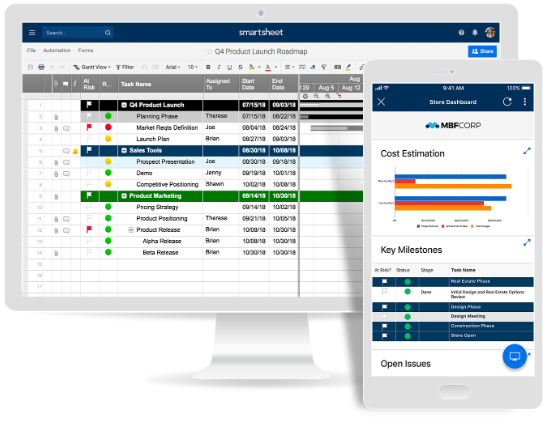 Smartsheets does not have a free version.
Trello's boards, lists and cards allow you to share your projects in a fun and flexible way that is rewarding.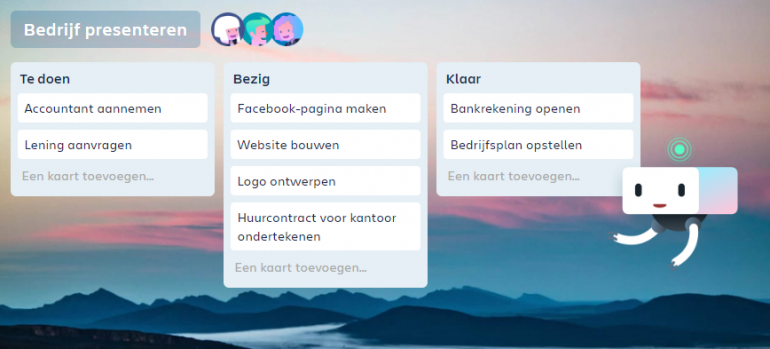 Cloud-based collaboration and project management software that scales across teams in any business. – Wrike
Up to 5 users you can use this tool for free.
Wunderlist is the easiest way to get stuff done. Whether you're planning a holiday, sharing a shopping list with a partner or managing multiple work projects, Wunderlist is here to help you tick off all your personal and professional to-dos. – Wunderlist
Source and read more: Frank Watching